Upcoming Seminars
It is still possible to get tickets to attend to Verto's seminars. Our guest lecturer, Alison Sjöström is an experienced career consultant at Verto Konsult and holds an ICF (International Coaching Federation) coaching diploma. Find out below what topics will be discussed in the seminar.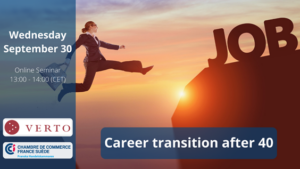 A career transition can sometimes be necessary to reinvent yourself after 40. Although it can be scary to make drastic changes, it can also be an exciting opportunity for new challenges.

Next Wednesday, on the 30th of September, Alison Sjöström will hold a seminar online on career transitions. The seminar will cover everything from advice on what to say to recruiters, how to get references from your previous employment and how to put together your transition strategy.